The European Union in a time of change. Implications for Poland
Keywords:
European Union, European integration, euro, Polish foreign policy, structural funds
Abstract
The Author – diplomat and economist – examines the problems of the European Union in recent years, associated with changes in the world economy – globalization and the emergence of new centers of economic influence. The crisis within the EU, especially in the euro zone is structural. It is associated with the weakening of the competitiveness of a number of European countries, demographic problems and differering political interests of the member states. European integration is at a turning point. The author tries to answer the question of the impact of the current EU crisis for Poland's economic and political interests. Points to the achievements of Poland in recent years and to the weaknesses of the Polish internal and foreign policy. He makes a number of comments on prospects of Polish accession to the euro zone and claims that a successful membership in the zone rests upon Poland's ability to carry out structural reforms to enhance innovation and competitiveness of the Polish economy.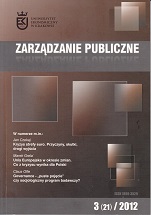 How to Cite
Grela, M. (2013). The European Union in a time of change. Implications for Poland. Public Governance / Zarządzanie Publiczne, (21(3), 27-43. Retrieved from http://publicgovernance.pl/zpub/article/view/234