Governance: an 'empty signifier' or a scientific research programme?
with the introduction of Bob Jessop
Claus Offe

Hertie School of Governance
Keywords:
governance, state, market, structura, process
Abstract
The introduction presents critical insights on the structure and semantics of the concept of governance. The main approaches to understand the concept of governance, in the debate on the modern state and the market, have been examined. Furthermore, the reasons why at present the concept of governance is so popular all over the world, have been explained. The final part of the paper offers some critical observations on the important limitations in the use of the concept of governance both in theory and practice.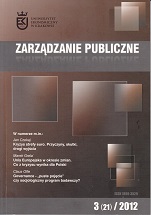 How to Cite
Offe, C. (2013). Governance: an 'empty signifier' or a scientific research programme?. Public Governance / Zarządzanie Publiczne, (21(3), 87-102. Retrieved from http://publicgovernance.pl/zpub/article/view/239
Section
Selection of classic texts