The social context of knowledge and cognition
Paweł Białynicki-Birula

Department of Public Economy and Administration, Cracow University of Economics
Keywords:
epistemology, ethnomethodology, cognition, sociology of knowledge, social knowledge, colloquial knowledge
Abstract
The paper discusses the problem of knowledge in terms of determinants of human cognition. The main objective is to determine the designatum of the concept of social knowledge and the methods of its categorization. The author presents the key issues concerning knowledge and cognition, both individual and collective. He discusses the dilemmas arising from the nature of human knowledge and ultimately impinging on the nature and shape of social knowledge. He concludes that social knowledge is relative to human knowledge, and that every kind of knowledge, including scientific, develops in close connection with its social environment.
Downloads
Download data is not yet available.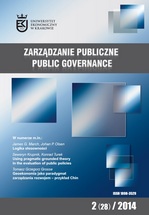 How to Cite
Białynicki-Birula, P. (2014). The social context of knowledge and cognition. Public Governance / Zarządzanie Publiczne, (28(2), 5-14. Retrieved from http://publicgovernance.pl/zpub/article/view/296