Using Pragmatic Grounded Theory in the evaluation of public policies
Seweryn Krupnik

Center for Evaluation and Analysis of Public Policies of the Jagiellonian University

Konrad Turek

Center for Evaluation and Analysis of Public Policies of the Jagiellonian University
Keywords:
evaluation, grounded theory, public policy, pragmatism, abduction
Abstract
The article presents the methodology of pragmatic grounded theory as a research strategy for the evaluation of public policies, basing on a reconsideration of the links between the pragmatism of Charles S. Peirce, grounded theory and the methodology of evaluation. The main characteristics of the approach are illustrated with an example of an empirical study of the evaluation of investment subsidies for small and medium enterprises in Poland. We summarise and discuss the usefulness of Pragmatic Grounded Theory for public policy studies and its limitations, as well as the links to other methodological approaches in the social sciences.
Downloads
Download data is not yet available.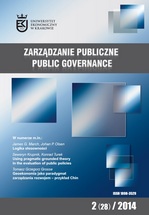 How to Cite
Krupnik, S., & Turek, K. (2014). Using Pragmatic Grounded Theory in the evaluation of public policies. Public Governance / Zarządzanie Publiczne, (28(2), 32-48. Retrieved from http://publicgovernance.pl/zpub/article/view/307