Soft budget constraint. An introductory study to volume IV of the Life's Work Series
János Kornai

Corvinus University of Budapest
Keywords:
soft budget constraint, bail-out, loss-making enterprise, moral hazard, time inconsistency
Abstract
The author's ideas on soft budget constraint (SBC) were first expressed in 1976. However, over the ensuing four decades, much progress has been made in understanding the problem. The study takes issue with those who confine the concept to the process of bailing out loss-making socialist firms. It shows how the syndrome can appear in various organizations and forms in many spheres of the economy, and points to the various available means of financial rescue. Single bailouts do not as such generate the SBC syndrome. It develops where the SBC becomes built into expectations. Special heed is paid to features generated by the syndrome in rescuer and rescued organizations. The study reports on the spread of the syndrome in various periods of the socialist and the capitalist system, in various sectors. The author expresses his views on normative questions and on therapies against the harmful effects. He deals first with actual practice, then places the theory of the SBC in the sphere of ideas and models, showing how it relates to other theoretical trends, including institutional and behavioural economics and theories of moral hazard, and inconsistency in time. He shows how far the intellectual apparatus of the SBC has spread in theoretical literature, and where it has reached in the process of "canonization" by the economics profession. Finally, he reviews the main research tasks ahead.
Downloads
Download data is not yet available.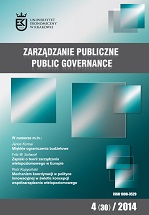 How to Cite
Kornai, J. (2014). Soft budget constraint. An introductory study to volume IV of the Life's Work Series. Public Governance / Zarządzanie Publiczne, (30(4), 5-30. Retrieved from http://publicgovernance.pl/zpub/article/view/332