Coordination mechanism in innovation policy – Multi-level governance perspective
Cases of the Małopolska Region and the Świętokrzyskie Region
Piotr Kopyciński

Department of Public Economy and Administration, Cracow University of Economics
Keywords:
coordination mechanisms, governance, multi-level governance, innovation, innovation policy
Abstract
This paper describes the coordination mechanism used in innovation policy. For this purpose, a questionnaire survey was conducted in the Małopolska Region and the Świętokrzyskie Region. A presentation of the results of empirical studies is preceded by an outline of three ideal coordination mechanisms: organization, market, and networked forms of governance. The latter includes governance and its variant – multi-level governance. The paper also identifies key issues related to innovation, including the understanding of innovation policy and innovation systems. Based on these results, it can be concluded that the mechanism of coordination in innovation policy in the surveyed regions is a mixed network-market-hierarchy mechanism with a dominant role of the network mechanism. Such a mechanism can be called multi-level governance in the broad sense, as opposed to the ideal type – multilevel governance in the strict sense.
Downloads
Download data is not yet available.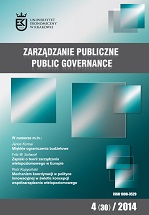 How to Cite
Kopyciński, P. (2014). Coordination mechanism in innovation policy – Multi-level governance perspective. Public Governance / Zarządzanie Publiczne, (30(4), 31-46. Retrieved from http://publicgovernance.pl/zpub/article/view/333