The dark side of governance or on the shortcomings of governance networks
Michał Żabiński

Department of Public Economy and Administration, Cracow University of Economics
Keywords:
governance, networks, self-organizing inter-organizational networks, network governance, trust, actor in the political process
Abstract
The article deals with the issue of shortcomings of governance. The author presents and discusses the fundamental limitations of governance networks. To that end, he focuses on the issues of trust and communication between network members, network transparency and accountability as well as the problems of management and coordination within a network. He also reviews the impact of governance networks on increasing social inequality.
Downloads
Download data is not yet available.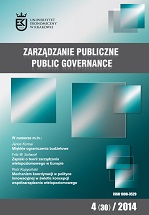 How to Cite
Żabiński, M. (2014). The dark side of governance or on the shortcomings of governance networks. Public Governance / Zarządzanie Publiczne, (30(4), 47-55. Retrieved from http://publicgovernance.pl/zpub/article/view/334