Forms of public management in the context of urban development in Poland
Michał Kudłacz

Department of Public Economy and Administration, Cracow University of Economics

Paulina Mazur-Kurach

Department of Regional Economy Cracow University of Economics
Keywords:
metropolis, public management, city development management, city management styles
Abstract
The paper focuses on the problems relating to metropolitan centres in relation to the problems of city resources activation. Through literature analysis, the authors try to determine to what extent the result of the activity of the municipal government, with particular emphasis on the role of the executive body, affects the resources of the city. The latter are the result of public administration activities and processes of the free market mechanisms, therefore, the question arises about the role of public administration in relation to natural (free market) processes. The authors further take on the topic of the dual activities of local government: ensuring the collective needs of citizens and actions in order to improve territorial competitiveness (location attractiveness). An important element of this paper is the consideration of public management models in the context of management by the city mayors. Although the paper is theoretical, the authors make attempts to analyze the prevailing public management models and styles in metropolitan centres.
Downloads
Download data is not yet available.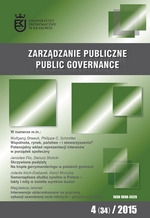 How to Cite
Kudłacz, M., & Mazur-Kurach, P. (2016). Forms of public management in the context of urban development in Poland. Public Governance / Zarządzanie Publiczne, (34(4), 50-65. https://doi.org/10.15678/ZP.2015.34.4.04