Economic analysis of the motivation of a Polish judge and the factors inf luencing his or her decisions related to occupational choice and efficiency
Przemysław Banasik

Faculty of Management and Economics, Gdańsk University of Technology
Keywords:
judges, remuneration, efficiency
Abstract
The goal of this paper is the analysis of the factors inf luencing the efficiency of a judge measured against the number of cases heard and the relation between the efficiency of a judge and their remuneration. To do so, a study has been conducted among judges of district courts and a regional court in one of the largest regions in Poland. The analysis of this research shows that the level of remuneration and work stabilization are the most important when choosing the profession. Achieving this goal makes the remuneration unimportant when defining the efficiency of a judge understood as a number of cases heard. The judge monitors the number of cases heard and focuses on quantitative results due to other reasons than the remuneration. The fundamental reasons are: the sense of the mission completed and the duty done.
Downloads
Download data is not yet available.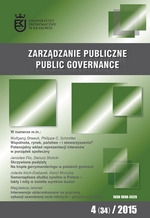 How to Cite
Banasik, P. (2016). Economic analysis of the motivation of a Polish judge and the factors inf luencing his or her decisions related to occupational choice and efficiency. Public Governance / Zarządzanie Publiczne, (34(4), 66-84. https://doi.org/10.15678/ZP.2015.34.4.05