The activity of Polish local government units in international associations
Marek Oramus

Malopolska School of Public Administration, Cracow University of Economics
Keywords:
local government, international cooperation, international associations, report
Abstract
The main aim of this paper is to present the results of the study titled "The effectiveness of cooperation between Polish local governments with partners from other countries, undertaken within international associations", prepared in September 2015 by the Małopolska School of Public Administration − Cracow University of Economics, commissioned by the Ministry of Foreign Affairs. As part of this study, in-depth individual interviews (IDI) were conducted with representatives of more than 50 local governments responsible for international cooperation. They supplied the characteristics of the activities undertaken by Polish local governments units in the area of cooperation in the framework of international associations. This study showed that, although according to respondents the activity of Polish local governments has increased in this regard in recent years, there are still some barriers to reaping full benefits of membership in international associations. Therefore, the developed recommendations aim at improving the effectiveness of this cooperation in the context of, among others, improvement of the quality of public tasks.
Downloads
Download data is not yet available.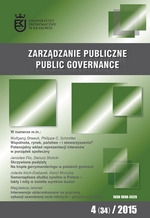 How to Cite
Oramus, M. (2015). The activity of Polish local government units in international associations. Public Governance / Zarządzanie Publiczne, (34(4), 85-96. https://doi.org/10.15678/ZP.2015.34.4.06