From central planning to governance? Polish education system and the shift of public administration paradigm
Przemysław Sadura

Institute of Sociology, University of the Warsaw
Keywords:
education, delegation of public services, new public management, new public governance
Abstract
The aim of this paper is to analyse the public administration in Poland from the perspective of the evolution of subsequent paradigms of public administration (Public Administration, New Public Management and Governance). The general model is applied to the case study of the education sector in Poland. Special attention was paid to the issue of delegating public services by local governments to non-governmental organisations in education in Poland and the role of the state in regulating this process. According to the author, simultaneous interaction of conf licting paradigms of management has created favourable conditions for the autonomous institutional process that led to an unstable balance of power between the market and statist solutions in the Polish educational system.
Downloads
Download data is not yet available.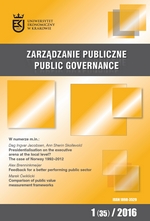 How to Cite
Sadura, P. (2016). From central planning to governance? Polish education system and the shift of public administration paradigm. Public Governance / Zarządzanie Publiczne, (35(1), 47-57. https://doi.org/10.15678/ZP.2016.35.1.04