Feedback for a better performing public sector
Alex Brenninkmeijer

Utrecht University School of Law
Keywords:
feedback, learning, courts, auditors, ombudsmen, performance, corruption, complexity
Abstract
Feedback by independent institutions such as courts, auditors and ombudsmen can guide the public sector on how to improve the performance of the public sector and suppress corruption. This article underlines that rules and checks are not an effective answer to corruption and growing distrust in society. The heart of the matter is the effectiveness of feedback systems. In (complex) modern states the whole range of democracy – judicial control, audit, supervision by ombudsmen and (market) regulators, and evaluation by independent bodies, and applications in the digital world – are all important examples of feedback. Feedback depends not only on rules and the existence of legal institutions, but also on (international) cooperation. If, for instance, an audit body is working with a hostile public sector not open to critical ref lection, its effectiveness can be limited. In this respect, there is an important difference between power and authority. The same goes for (constitutional) courts and the ombudsman. Feedback systems in the public sector can only f lourish in an open and cooperative context. If not, public services have a tendency to become inward-looking and unresponsive to the outside world. To conclude, improvement of the performance of the public sector should be based on a learning process; feedback is highly relevant to this. In this context, a culture of difficult conversations is highly relevant as a part of the learning process.
Downloads
Download data is not yet available.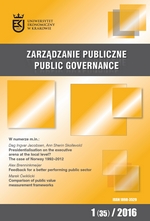 How to Cite
Brenninkmeijer, A. (2016). Feedback for a better performing public sector. Public Governance / Zarządzanie Publiczne, (35(1), 68-75. https://doi.org/10.15678/ZP.2016.35.1.06