Participatory management in public institutions – The case of communal cultural organizations
Wojciech Kowalik

Faculty of Management AGH University of Science and Technology
Keywords:
participatory management, public governance, cultural organization, culture and development
Abstract
The article provides an overview of the relationship between culture and development and shows the role of cultural organizations in this process. The way to social and economic development, among other things, leads through efficient cultural organizations that use participatory tools and openness to help to multiply social and cultural capitals. The article presents research findings on how local cultural organizations utilize participatory management tools.
Downloads
Download data is not yet available.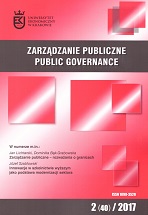 How to Cite
Kowalik, W. (2018). Participatory management in public institutions – The case of communal cultural organizations. Public Governance / Zarządzanie Publiczne, (40(2), 65-79. https://doi.org/10.15678/ZP.2017.40.2.05