Presidentialisation on the executive arena at the local level? The case of Norway 1992-2012
Dag Ingvar Jacobsen

Dept. for Political Science and Leadership University of Agder

Ann Sherin Skollevold

Dept. for Political Science and Leadership University of Agder
Keywords:
presidentialisation, concentration of power, Norway, municipalities
Abstract
It is empirically contested whether the phenomenon of presidentialisation, i.e. the concentration of power around the leading political positions in non-presidential systems, is taking place or not. This study sets out to investigate whether presidentialisation on the executive arena takes place in a collegial political system, more specifically in Norwegian municipalities. Using several independent empirical data in the period from 1992 to 2012, the main conclusion is that there are few traces of presidentialisation on the Norwegian local level. However, there are tendencies towards political concentration in the sense that political power is centralised in the political elite. Rather than presidentialisation or centralisation of power around one position, this can be regarded as an institutional centralisation of power.
Downloads
Download data is not yet available.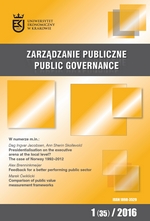 How to Cite
Jacobsen, D. I., & Skollevold, A. S. (2016). Presidentialisation on the executive arena at the local level? The case of Norway 1992-2012. Public Governance / Zarządzanie Publiczne, (35(1), 7-19. https://doi.org/10.15678/ZP.2016.35.1.01